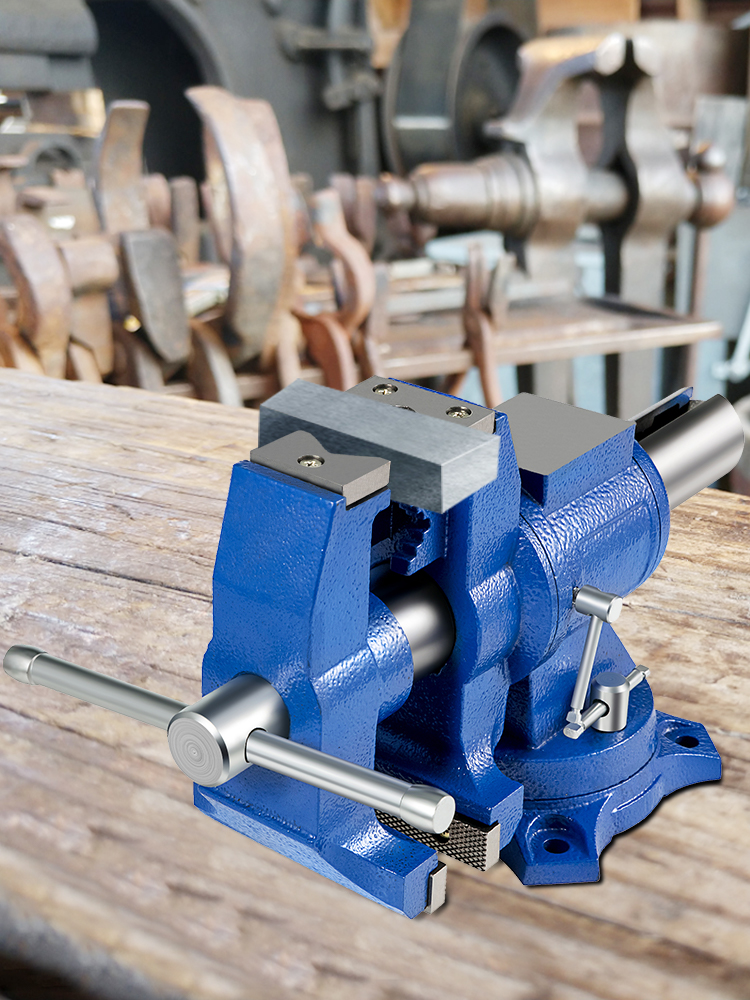 Swivel Multipurpose Bench Vise
Ductile Cast Iron & 15kN / 30kN Clamping Force & Simple Operation
Our rotating bench vise is the ideal industry heavy-duty vise. This vise is made of ductile cast iron and features a swivel head and quality lead screw, which can be used for home craftsmen or in the workshop.
Sufficient Clamping Capacity
Tough Equipment & Tools, Pay Less
VEVOR is a leading brand that specializes in equipment and tools. Along with thousands of motivated employees, VEVOR is dedicated to providing our customers with tough equipment & tools at incredibly low prices. Today, VEVOR"s products are sold in more than 200 countries and regions with 10 million plus members worldwide.
Why Choose VEVOR?
Premium Tough QualityIncredibly Low PricesFast & Secure Delivery30-Day Free Returns24/7 Attentive Service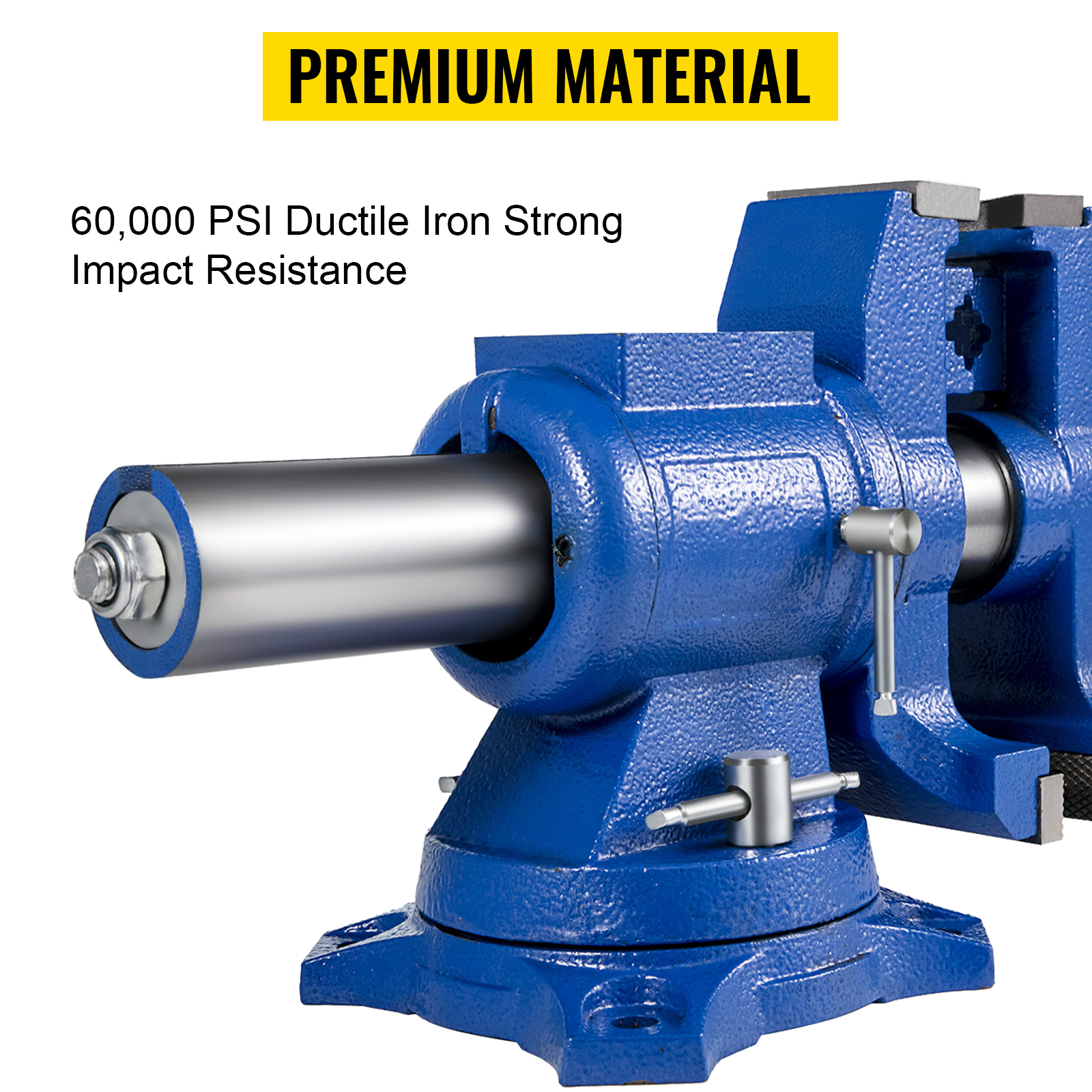 Premium MaterialBuilt by ductile cast iron, the vise is more sturdy and stronger than ordinary tools. Designed for long service life.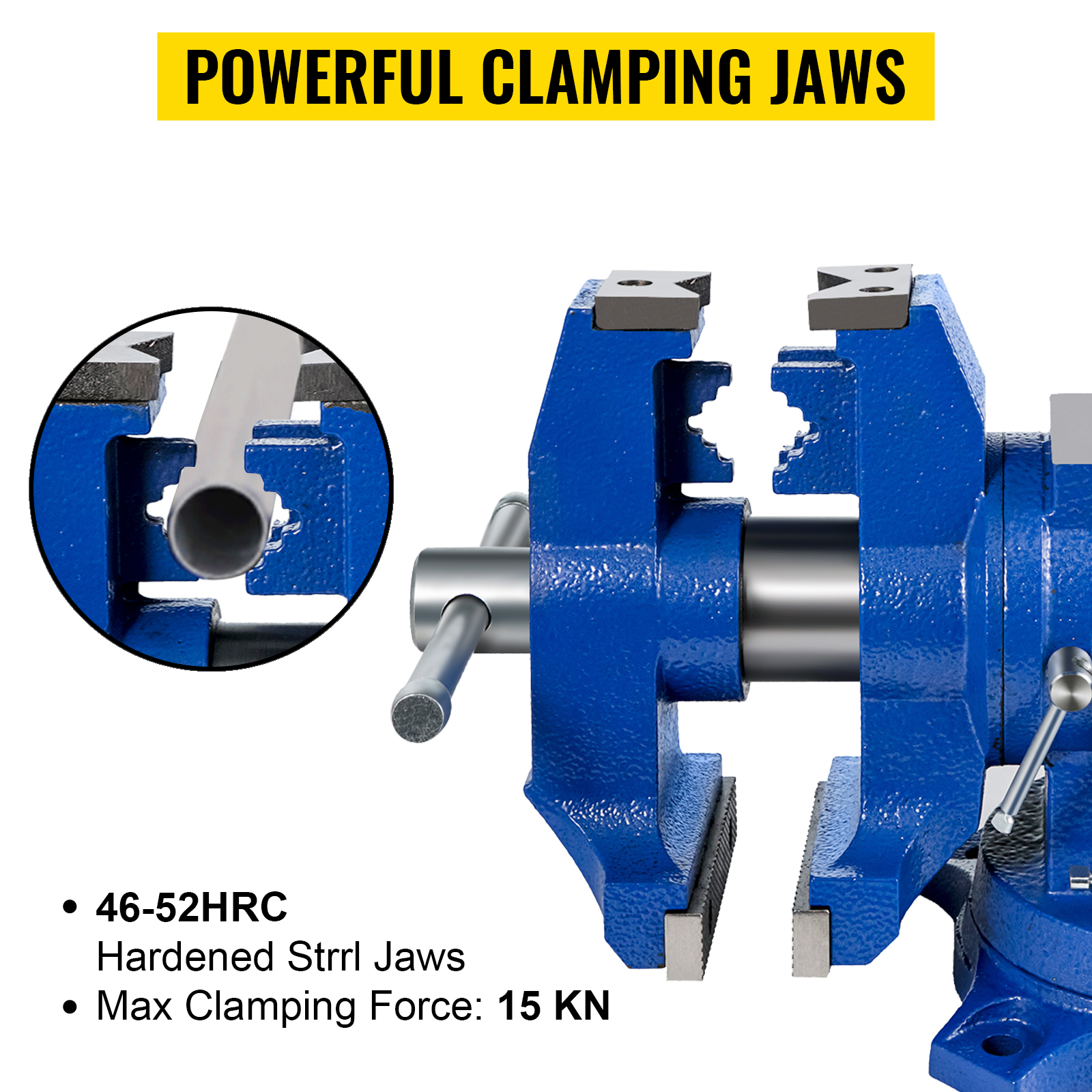 Powerful Clamping JawsThese jaws adjust well to the workpieces, providing powerful clamping pressure while reducing marring for superior grip.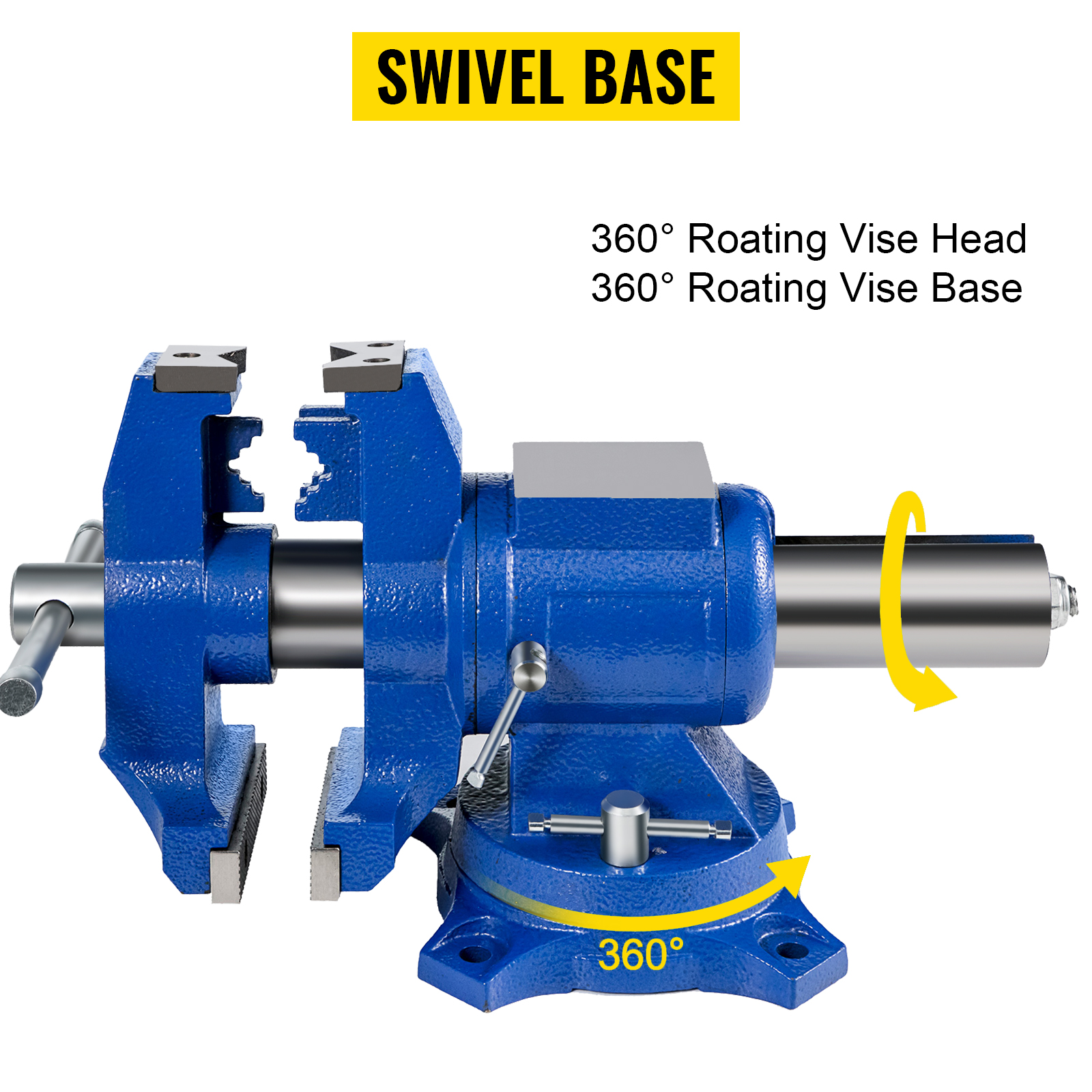 Swivel BaseThe base of the vise can also rotate 360 degrees, allowing for optimal work placement. By fixing holes and pins, it can achieve stable operation.
Quality Lead ScrewUpgraded lead screw with deep thread has good rust prevention, especially connected with a handle to operate the head of the vise flexibly.
Precision Guide RailAfter precision grinding, the guide rail can be clamped quickly and stably, so as to realize the smooth operation of the lead screw thread.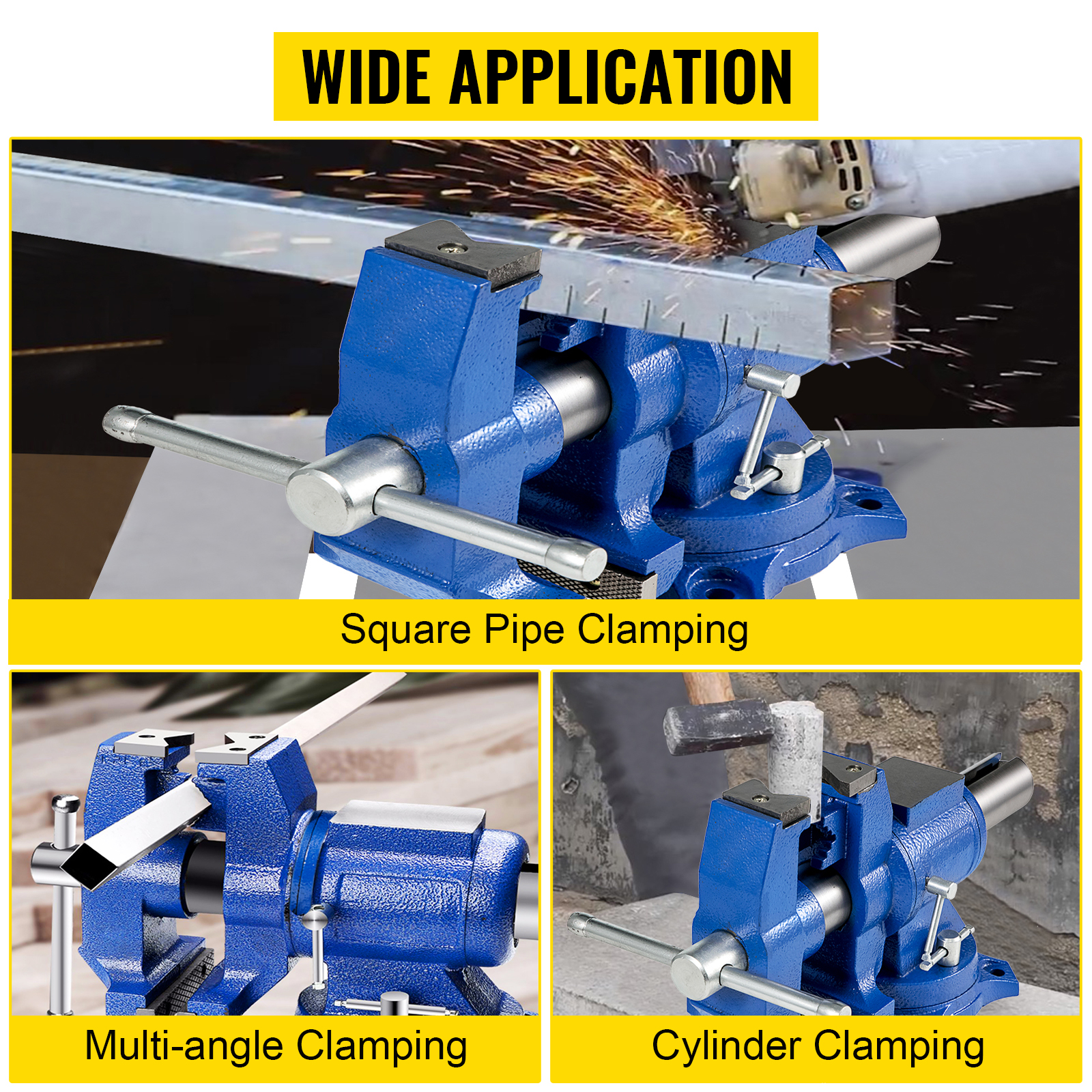 Wide ApplicationThe workbench vise can be used for industrial or household machine tool processing, clamping, or fixing workpieces.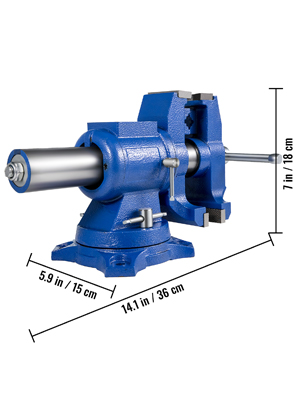 4-inch 15kN Bench Vise
Material: Ductile Cast IronJaws Width: 4"" / 10.2 cmJaws Opening: 4"" / 10.2 cmThroat Depth: 2"" / 5.1 cmClamping Force: 15 kNHardness: 46-52HRCNet Weight: 22 lbs / 10 kgItem Dimensions(L x W x H) : 14.1"" x 5.9"" x 7"" / 36 x 15 x 18 cm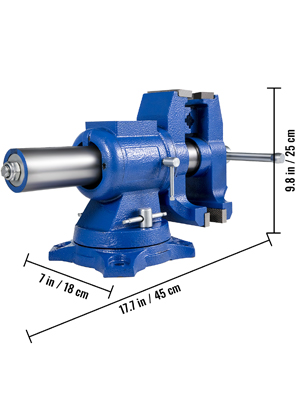 5-inch 30kN Bench Vise
Material: Ductile Cast IronJaws Width: 6"" / 152 mmJaws Opening: 5"" / 127 mmThroat Depth: 3"" / 76 mmClamping Force: 30 kNHardness: 46 - 52 HRCNet Weight: 44 lbs / 20 kgItem Dimensions(L x W x H) : 17.7"" x 7"" x 9.8"" / 45 x 18 x 25 cm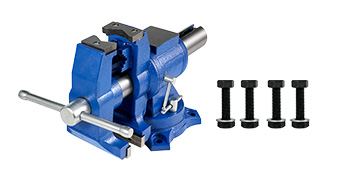 Package Content
1 x Bench Vise4 x Screws
Features & Details
【Heavy-Duty Construction】: Made of ductile iron which increases durability and longevity, this table vise is designed to be used in tough surroundings.【Sufficient Clamping Capacity】: The built-in jaws are grooved for enhanced grip, and the jaws allow for easy clamping of pipe and other rounded material. It is designed to withstand the clamping force of 15kN / 30kN.【360 Degrees Rotation】: The head of the vise can be rotated by 360 degrees for extra versatility, and the swivel base of the vise allows for optimal work placement and flexibility.【Precision & Hardness】: Polishing lead screw and guide rail are upgraded to achieve high precision and high hardness. The workbench vise can clamp and tighten quickly and smoothly after precise grinding.【Multifunctional Tool】: This table vice is widely used in the industry or household. Mounting vise on the workbench, then you could do the work of grinding, clamping, fixing, etc.